Friday, September 17, 2021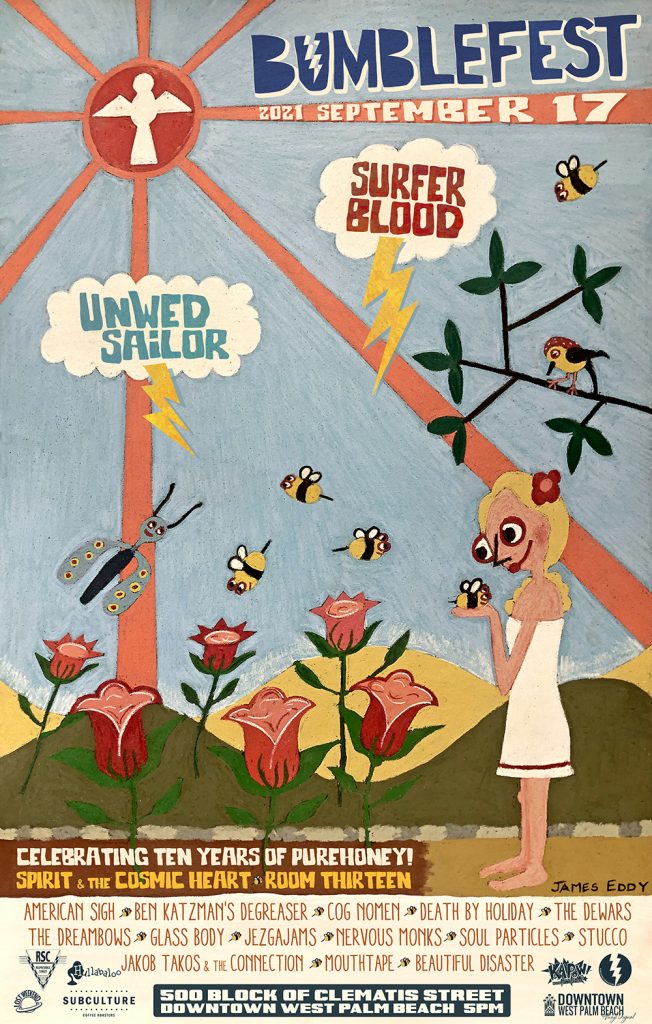 UNWED SAILOR (Tulsa)
SURFER BLOOD (WPB)
ROOM THIRTEEN | SPIRIT & THE COSMIC HEART
American Sigh
Beautiful Disaster
Ben Katzman's Degreaser
Cog Nomen
Death by Holiday
The Dewars
The Dreambows
Glass Body
Jakob Takos & the Connection
Jezgajams
Mouthtape
Nervous Monks
Soul Particles
Stucco
5PM HAPPY HOUR and bands begin at 6pm!
500 block of Clematis Street, Downtown West Palm Beach
2021 Graphics by the incredible James H. Eddy
SURFER BLOOD
Surfer Blood's 5th album, Carefree Theatre, was released on 9/25/20 on Kanine Records, Also released in 2020 was 10th anniversary deluxe 2-LP vinyl reissue of their debut album Astro Coast, and the Hard-Boiled 10" ep with special guest vocalists.
Founding Surfer Blood members John Paul Pitts and Tyler Schwarz are joined by guitarist Michael McCleary and bassist Lindsey Mills, all alumni of the same high school in West Palm Beach, Florida. Surfer Blood are the cleanest and nicest band in existence.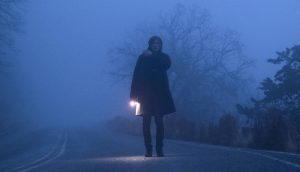 UNWED SAILOR 
The journey of Unwed Sailor began in Seattle, WA in 1998, shortly after Johnathon Ford departed critically praised bands Roadside Monument and Pedro the Lion. While working within those projects, Ford began writing instrumental music after listening to Tortoise, Pullman, and seeing bands like Physics perform live. After recruiting Dave Bazan (Pedro the Lion), Casey Wescott (Fleet Foxes), and Melissa Palladino (Danielson Famile) to play on the now classic Firecracker EP, Unwed Sailor was born. Two decades and seventeen releases later, Ford has continued to rely on the band as a device for personal exploration and emotive narration. Unwed Sailor now joins forces with Spartan Records for the release of their latest moody and cinematic journey, Truth or Consequences, a sonic examination of particular memories or moments in Johnathon Ford's life, with each song serving as a unique snapshot of an overarching narrative. Truth or Consequences is shaped around familiar musical DNA. Heavily present, driving, and stacked bass lines; wandering and evolving song structures; soaring crescendos and moody diminuendos; and, of course, a gripping sense of sonic storytelling.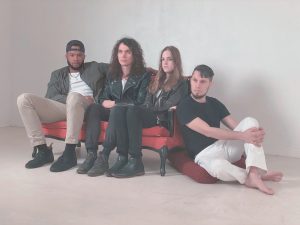 SPIRIT & THE COSMIC HEART
"Florida's Spirit ad the Cosmic Heart offer a warm shoegaze pop sound founded on good production, lush instrumentals and soft vocals, and show a tendency for memorable and tuneful writing. 
Subtly reminiscent of sixties pop, 'MOMENTS' EP (2021) is an accurate representation of the band's songful character, bringing forth symmetric levels of dream pop melancholy and twee smoothness. Spirits music comes with a strong sense of openness and familiarity, hence it's easy to appreciate instantly" – DESTROY / EXIST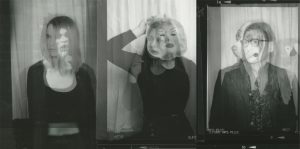 ROOM THIRTEEN
Room Thirteen is a collaboration between audio/visual artists Courtney Asztalos, Abigail Clark & Danny Clifton. All three are from Florida, a culture and landscape that has colored their work from the beginning back in 2014. This album was recorded in a 1970's single-wide beach trailer in the small coastal town of Shell Point, FL, shortly before it was destroyed by Hurricane Michael in 2019. The album rides the edge between light and dark; like a Disney acid trip filled with missing teeth, guitars that sound like crying dogs, & answering machine solos heard in a cruise ship casino.

"Room Thirteen is Clifton's melting Martin Denny exotica with ghostly, doo-wop harmonies." –Alex Woodward for The Gambit
"The sound of Room Thirteen . . . is inspired by solid gold oldies, swimming holes, lounge music, and tropical martinis" – Elizabeth Schneider for IMPOSE Magazine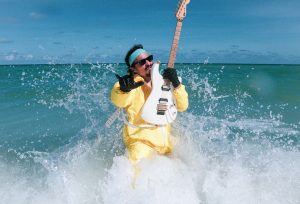 BEN KATZMAN'S DEGREASER
Ever wondered what the love child of Judas Priest and the Ramones would sound like? Look no further: The name is Ben Katzman and my band is DeGreaser. In the midst of running BUFU Records (Tall Juan, Free Pizza, Japanther) I formed DeGreaser. The pop-metal outfit's sound, coupled with my diary entry-like songwriting has formed the band's recognizable world of all things astrology, shredding, and self-improvement. 
"Ben Katzman's Degreaser is an alt-pop-metal group from Florida, spearheaded by, as the name indicates, Ben Katzman. The singer/guitarist is fearless in his songwriting, taking influences from so many polarizing places that it threatens to erase the very concept of elitism rampant within rock and metal music". – Loudwire Magazine
"If the sexy sax man from The Lost Boys got really into NOLA sludge metal, the result would sound like DeGreaser. Fronted by the inimitable Ben Katzman (also known for his work with psych-rock band Guerilla Toss, as well as being the founder of BUFU Records), the band play raw, phlegmy hard rock with a brutal simplicity that complements their sleazed-out lyrics. The result sounds like the Melvins if they'd been raised in a Miami trailer park." – Kerrang Magazine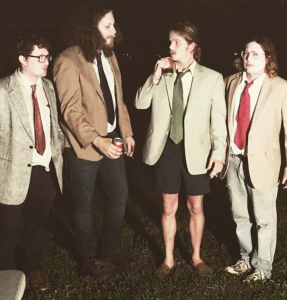 THE DEWARS
West Palm ex-pat twins Anthony and Zachary Dewar have the sporadic output expected from subscribers to the yachting life. Their music, lofty as it may seem, is firmly grounded and mature – a synthesis of what is like to be Floridian through a sound like the blues that sails knots away from standard, leaving a salty wind in your hair and catchy tunes to hum. – Abel Folgar, PureHoney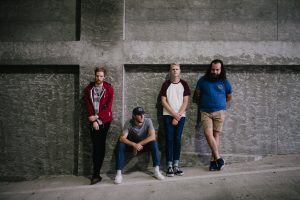 AMERICAN SIGH
Delivering an earnest and inventive take on indie rock, American Sigh is as bitter as it is sweet, as nihilistic as it is hopeful. Thrilling live shows have ensured an already dedicated audience for their nascent career.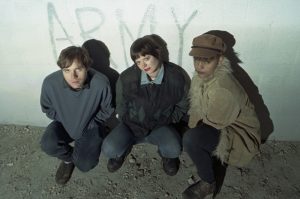 GLASS BODY
Glass Body is a three piece from South Florida with Sebastian Steixner on guitar and vocals, Bridget Van Otteren on bass and vocals, and Sydney Henry on drums. Their music when upbeat is met with dark ironic lyrics, they can be sludgy, playful, noisey, discordant, euphoric and aggressive.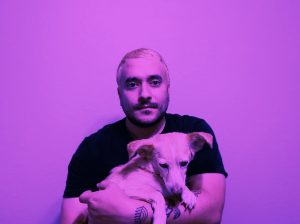 THE DREAMBOWS
The Dreambows started as a music project, created by Stephen Dewsnap.  He had been sitting on his music for years, after a few short stints in bands here and there and decided to finally start posting it online for friends to hear.  After moving back to South Florida from the west coast and without a band, he reached out to his friend John Paul Pitts of Surfer Blood, to help him record and produce the first album "Flower Loops". Flower Loops was written while entranced in a relationship straight out of a book of love spells, so the songs spill out witchy melodies in a cauldron of dream-inducing honey.  The album features Stephen Dewsnap on Guitar and vocals, John Paul Pitts (Surfer Blood) on bass, keys and backing vocals and Tyler Schwarz (Surfer Blood) on Drums.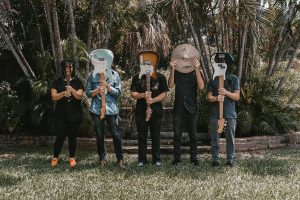 JAKOB TAKOS & THE CONNECTION
Jakob Takos & The Connection is a South Florida based band with an eclectic sound they call Sunshine Soul. Their inspiration pulls from a variety of Blues, Folk and Reggae. You can hear them for yourself on all major streaming platforms with their debut record The Sunshine Soul EP.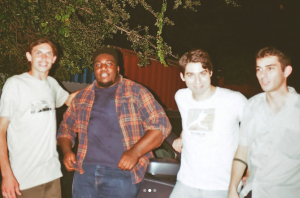 SOUL PARTICLES
Indie, Post Punk, Twang. Soul Particles are a 4 piece band consisting of Brandon Rasouli on guitar and vocals, Trevor Johnson on drums and vocals, Josh Ewers on bass and vocals, and Anthony Tredenick on guitar and vocals. Their indie cacophony of sounds will keep you on your feet. One second their songs will be a twangy-two step, and before you can find a square dance partner, your world will spiral into a post-punk tropical storm. Despite Soul Particles and their genre identity crisis, you're likely to stay for the whole set.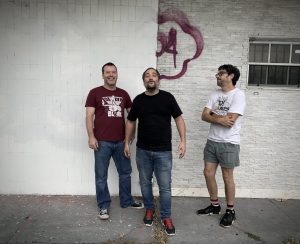 DEATH BY HOLIDAY
Death By Holiday is a 90's style punk band that records on tape and still connects to the internet using dialup.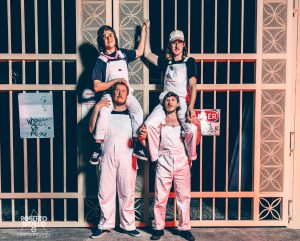 STUCCO
Eclectic/electric Egg-Pop pranksters. Mousetown outcasts pushing wild eyed, black n' white, certified DIY cartoon rock for high brow cretins and smooth brained polymaths. Fronted by head Welzeins honcho Russ Nordstrom, featuring members of Timothy Eerie and Fat Night. Tread lightly, dear reader. Earworms abound! Hooks ahoy! Those stucco hunks just keep em coming! Finally… a fake punk outfit for the rest of us!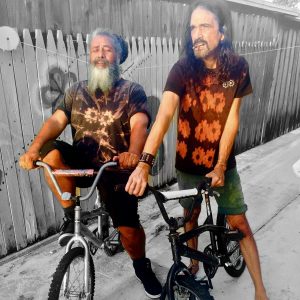 COG NOMEN
Somewhere between Psyche Rock and Astral Pop, Cog Nomen duo make a lot of noise with electronic toys.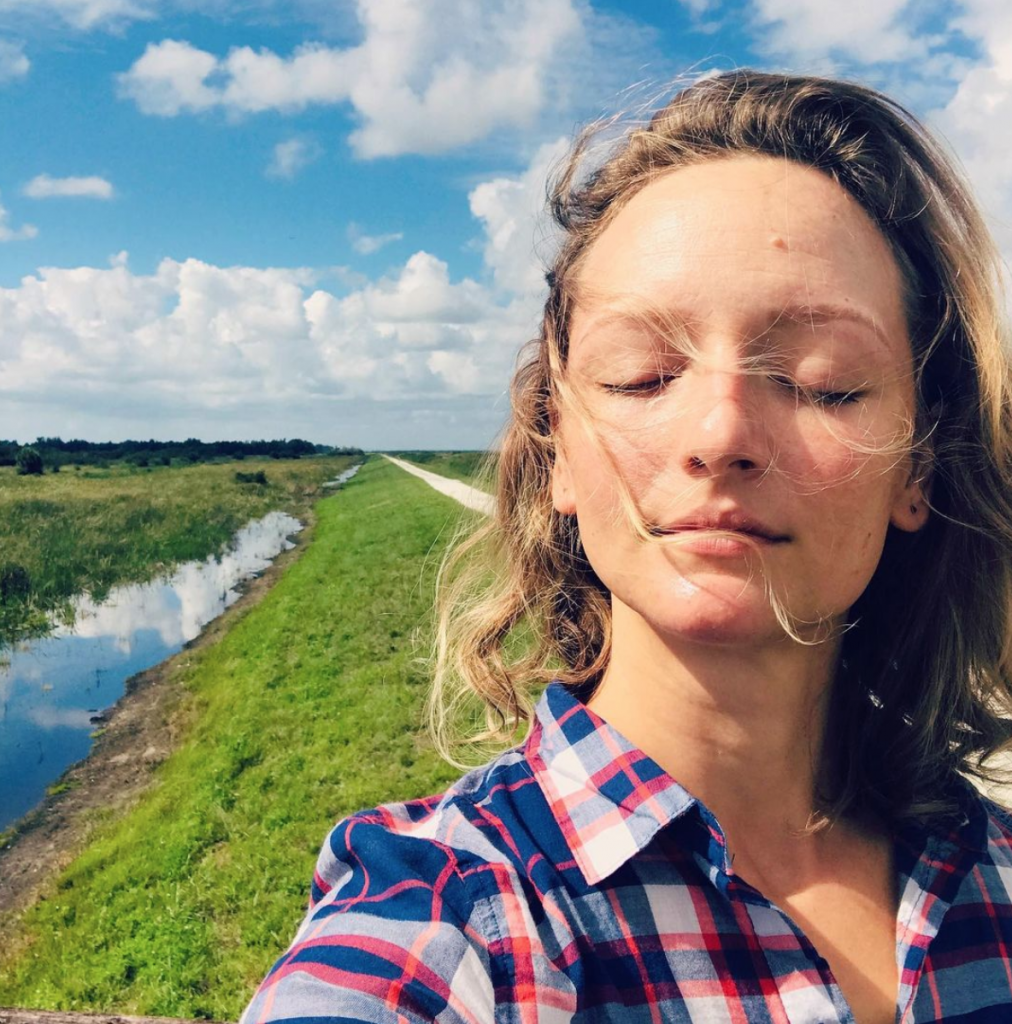 JEZGAJAMS
The crystalline queen of the Casio brings her cherubic vocals to the warm embrace of analog synths for a magical visit to the land where the new meets the nostalgic. Her charming mystique can only be matched by her soaring soprano with relentless rock pop beats keeping time.
ALSO PERFORMING: NERVOUS MONKS, MOUTH TAPE and BEAUTIFUL DISASTER
STAGES: Respectable Street (inside/outside) * Subculture Alley * O'Shea's * Alchemy * BRK Bar