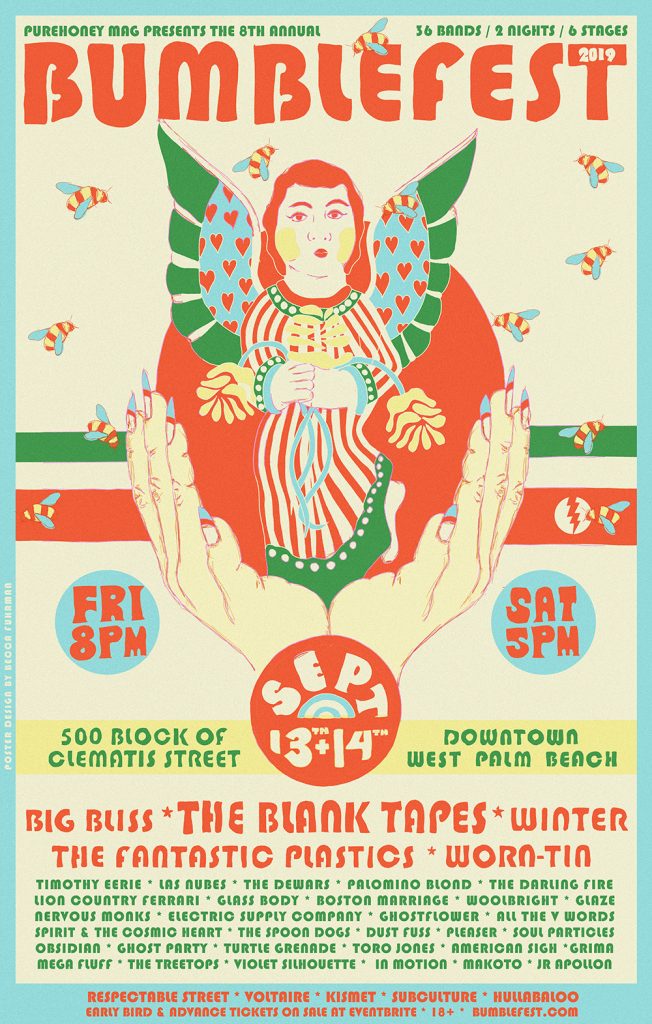 BUMBLEFEST 2019: (40 bands / 2 nights / 6 stages)
Friday, September 13 & Saturday, September 14
500 block of Clematis Street – Downtown West Palm Beach RSVP on Facebook, Invite Friends!
THE BLANK TAPES, WINTER, WORN-TIN, BIG BLISS, THE FANTASTIC PLASTICS, COOLZEY w. Timothy Eerie + Las Nubes + The Dewars + Palomino Blond + The Darling Fire + Lion Country Ferrari + Glass Body + Boston Marriage + Woolbright + Glaze + Spirit & the Cosmic Heart + The Spoon Dogs + Dust Fuss + Pleaser + Nervous Monks + Electric Supply Company + Ghostflower + Soul Particles + All the V Words + Obsidian + Ghost Party + Turtle Grenade + Toro Jones + American Sigh + Mega Fluff + The Treetops + Violet Silhouette + In Motion + Makoto + Grima + JR Apollon + Sumsun + Henry Krinkle
SIX STAGES: Kismet Vintage * Respectable Street (inside/outside) * Voltaire * Hullabaloo * Subculture Coffee
Advance Tickets | Facebook | RSVP FB Event Page | Instagram | Youtube | Soundcloud
THE BLANK TAPES (LA)
"We discovered this lo-fi unsigned band – which somehow evokes Belle and Sebastian, Pavement, and The Black Keys – in a San Fran coffeehouse (just like the old days.) Quick, somebody sign them!" –ROLLING STONE
"The sunny sounds of L.A.'s Blank Tapes, who yoke a garage-pop sensibility to ferocious rock riffs." – THE NEW YORKER

"Laid-back psychedelic rock and roll vibes cast from a time gone, fresh in the now, emitting a groovy energy, which got the crowd sway-dancing through the night." – THE BAY BRIDGED
"Alternating between dreamy and driving, dappled with delirious solos and seductive harmonies. The Blank Tapes radiated Ultraviolet Californian chords" – BLACKMATTER BLOG
"Matt Adams and his band premiere perfect summer pop. The Blank Tapes are turning their sun folk sound into some of this summer's best indie guitar pop, capturing the sound of golden West Coast pop like fire and lightening trapped in a jar." – IMPOSE MAGAZINE
"Adams writes winsome pop tunes that snuggle up to you on the sofa and put a rosy glow in your cheeks. He's a traditional pop-rock craftsman, but Adams also has pronounced folk proclivities, with many songs exuding a delicate, campfire aura. They go down easy, like the sun." – OC WEEKLY
INTERVIEW WITH MATT ADAMS AT PUREHONEYMAGAZINE.COM |  LISTEN NOW!
BIG BLISS (Brooklyn)
Recently named "NYC's Hardest Working Band of 2017" by Oh My Rockness, they've played around 150 shows between five tours and in NYC since their inception. Their debut EP, "Keep Near," was released on Exit Stencil Records in the fall of 2016, called "a glistening, energetic continuation of what Robert Smith so eloquently popularized…a wonderful example of post-punk that will have you excited about the genre again" by Noisey. Jon Schaefer of WNYC's Soundcheck said their "music jets along on classic-sounding post-punk melodies, with guitars usually chiming rather than crunching. But, like all good post punk, there's a bit of darkness lurking in the corners."
INTERVIEW WITH BIG BLISS AT PUREHONEYMAGAZINE.COM  |  LISTEN NOW!

THE FANTASTIC PLASTICS (NYC)
The Fantastic Plastics are a Neo-New Wave band based in NYC. Describing themselves as "The Future of The Future", the Fantastic Plastics mix new wave, synth punk, and electro elements with Orwellian and Sci-Fi inspired lyricism. The band is a two piece live act, featuring video installations, custom costumes, and sing-along anthems.

Formed in 2009 in Champaign, Illinois, the Fantastic Plastics relocated to Brooklyn in 2012. After Van's Warped tour in 2017 the band relocated to Peoria Illinois to focus on touring and recording. The live show consists of Miranda Plastic on Moog Synth, Theremin, and Vocals with Tyson Plastic on Guitar and Vocals. "Fifth Beatle" Dylan Plastic provides studio drums, bass, samples, video editing, and mesmerizing video installations.
INTERVIEW WITH TFP AT PUREHONEYMAGAZINE.COM  |  LISTEN NOW!
WINTER (LA)
Winter is the project of songwriter Samira Winter, who's love for guitar music and nostalgic imagery inspired the dream pop/indie rock four piece. Samira grew up in Curitiba, Brazil listening to her American father's punk records, and her Brazilian mother's MPB (Brazilian Popular Music) tunes. While living in Boston during her college years she found a love for shoegaze which led to her collaboration with Nolan Eley who recorded and produced Winter's first EP "Daydreaming" and LP "Supreme Blue Dream". In 2013 Samira relocated to Los Angeles where the band currently resides working on their upcoming album "Ethereality." Winter aspires to connect people to their inner child by making blissful, beautiful, dream pop.
INTERVIEW WITH WINTER AT PUREHONEYMAGAZINE.COM  |  LISTEN NOW!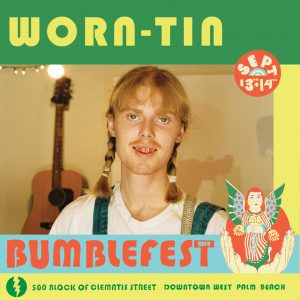 WORN-TIN (Santa Monica)
"But these crazy onstage antics, soundtracked by his psychedelic, laidback love songs, have solidified Warner's reputation as a must-see musician on the LA scene." – VICE
Alternative Garage Rock, Surfy Bedroom Rock band out of Santa Monica, CA. Just call me Worn-Tin. I'm 21 years old. I play video games and I like to swim. My friends name is Burt.
INTERVIEW WITH WORN-TIN AT PUREHONEYMAGAZINE.COM  |  LISTEN NOW!
COOLZEY (LA)
Golden era hip-hop roots planted in black Iowa dirt and tempered by 90s alternative era rock influence yields a juxtaposition of the dark, horrific nature of life paired with a slapstick and comedic view of the world, allowing for a wide, unpredictable arsenal of material ranging from soul-spilling indie bedroom rock to wise-cracking battle rap and on to radio pop.
Coolzey stepped into the public eye around 2005 with a demo album and a series of exploratory DIY tours with rapper/comedian and friend Schaffer the Darklord. Interest spread quickly and Coolzey found himself touring alongside hip-hop legends from Brand Nubian and Jurassic 5 as well as punk rock heroes like Dead Milkmen. Coolzey's first album 'The Honey' was released in 2010 and second official full-length 'Hit Factory' in 2013. In these albums as well as in a number of EPs, collaborations and side projects, he finds his niche as a songwriter, navigating hip-hop, rock, punk and pop in the spirit of genre defying influences such as Ween, Beck, The Beastie Boys and Outkast.
Coolzey's love for multiple genres can also be evidenced in his record label Public School Records, which curates music from the classic hip-hop of Bru Lei to the art pop of Belly Belt.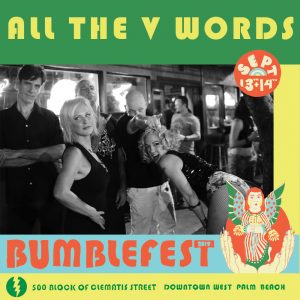 ALL THE V WORDS – You may be asking yourself, "Haven't I seen all of the people in this band before?" As you groove to infectious rock tunes a'la Blondie meets the Stooges. Yeah, they've got a decent pedigree to go along with the poppy tunes; some of South Florida's finest. – Tim Moffat, PureHoney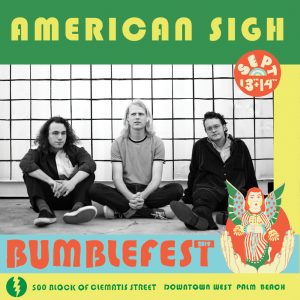 AMERICAN SIGH – While the name might conjure a resignation of fate after a protracted battle against societal norms, American Sigh is Theo Matz's humble West Palm Beach entry into a canon of forgotten pop craftsmanship. Modern in approach and leveled so instruments and vocals shine, there is an underlying nostalgia to its saccharine epidermis. – Abel Folgar, PureHoney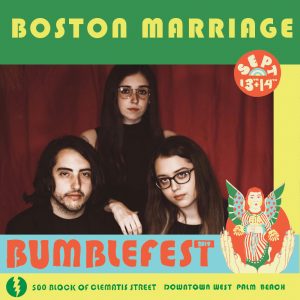 BOSTON MARRIAGE – Feeling like you don't want to leave your room? Straight out of Orange County (Florida, not LA), this indie trio composes beautiful, dreamy songs that'll make you want to cry and stay inside. However, their stormy instrumentals and looming bass lines might also make you step outside to see them live. – Olivia Feldman, PureHoney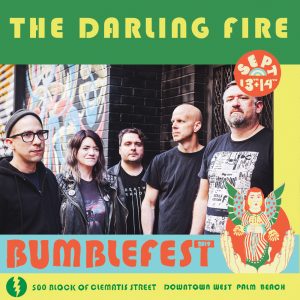 THE DARLING FIRE – True to their namesake, The Darling Fire will set your humble soul aflame. With sweet satin vocals threaded through melancholic musings, they've doused their repertoire with emotion akin to gasoline and dropped the proverbial match. – Freddie Zandt, PureHoney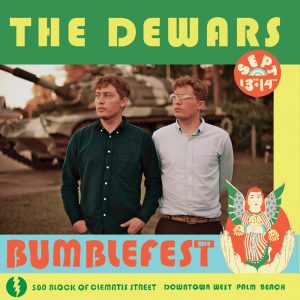 THE DEWARS – West Palm ex-pat twins Anthony and Zachary Dewar have the sporadic output expected from subscribers to the yachting life. Their music, lofty as it may seem, is firmly grounded and mature – a synthesis of what is like to be Floridian through a sound like the blues that sails knots away from standard, leaving a salty wind in your hair and catchy tunes to hum. – Abel Folgar, PureHoney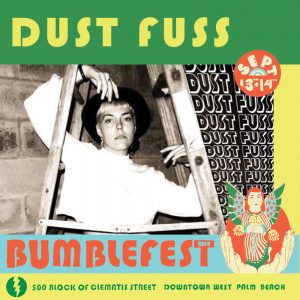 DUST FUSS – As eerie and mysterious as the tumbleweed's unassuming song, Dust Fuss are the devastatingly dreamy trio of modern cowgirls on a mission to sooth you, move you, and irrefutably groove you. – Freddie Zandt, PureHoney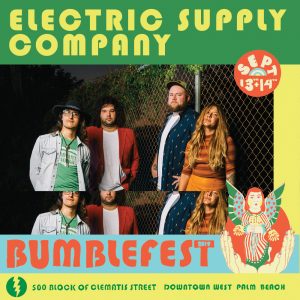 ELECTRIC SUPPLY COMPANY – Take the Black Keys, meld them with My Morning Jacket, and you'll get three guys and a girl who take psychedelic rock and sucker punch it with some Southern attitude. The Fort Lauderdale-based quartet sings about losing control in their powerful guitar-driven tracks. – Olivia Feldman, PureHoney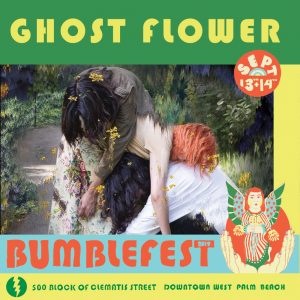 GHOST FLOWER – In an auditory incarnation of too much caffeine and not enough sleep, Ghostflower presents an explosive euphonic case study of tumultuous tension that will make you want to dance until dawn. – Freddie Zandt, PureHoney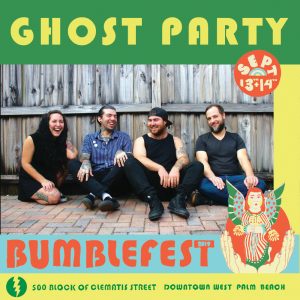 GHOST PARTY – If you're dead inside, you might as well party it up on the outside, letting that raucous mess of bone and flesh erupt in rhythmic spasms. Such is the ethos of Boca's Ghost Party, a rock n' roll machine of deviant excess that has hilariously been endorsed by confused lovers of Christian rock across the social media channels begging the question: Does God love rock? We think she does. – Abel Folgar, PureHoney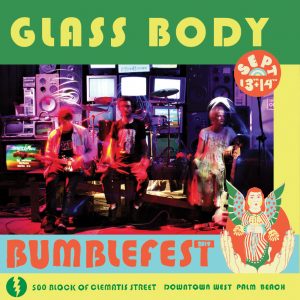 GLASS BODY – Glass Body's experimental indie rock pulsed through fuzzy dreams and distorted frequencies is a lush lawn of post-punk that lingers wistfully where the earth meets the sky – only that sky is a spiraling cacophony of Ben-Day dots channeling memories that have been lost to time or deliberately murdered by persons unknown. – Abel Folgar, PureHoney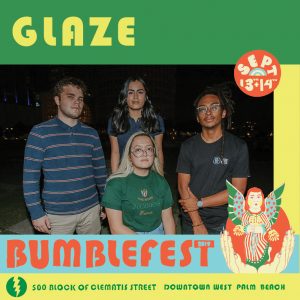 GLAZE – Broadcasting live from some magnificent pocket of the galaxy, Glaze brings you life through rose-colored glasses! Kick back on a journey through an uncharted sound sphere of revelations in reverb. – Freddie Zandt, PureHoney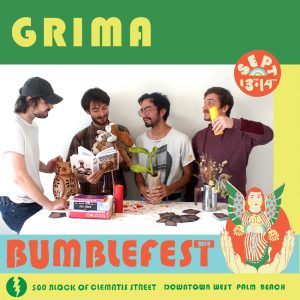 GRIMA – Simulcasting all over the planet Earth, from sunshiny Miami Florida, Grima are here to stealthily seep their way into unassuming eardrums in a with a hypnotic euphonic mastery! Coming with the wryness of an early Pavement and romantic moroseness of The Cure, their melancholic indie reflections send shivers down your spine and hold a funhouse mirror to your face. – Freddie Zandt, PureHoney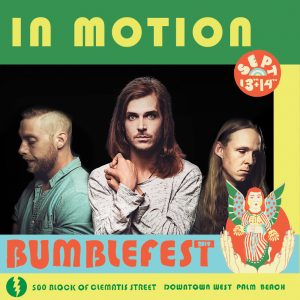 IN MOTION – Riddled with unrelenting emotion and savage angst, In Motion digs down deep into the abyss of the scorned human psyche. Their music is the explosion after so much pent up anguish you'd rather not admit to having. – Freddie Zandt, PureHoney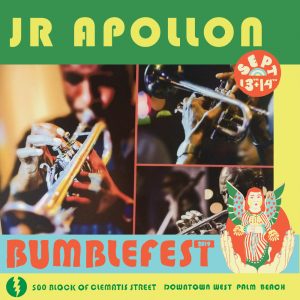 JR APOLLON – Grab your best gal, dip the bill, and ease right into the dulcet, tuneful refrains of J.R. Apollo. The smooth jazz, blended masterfully with blues, bossa-nova, and swing will drift you into another time, another world; sweeping you away on a cloud, in a dream. – Freddie Zandt, PureHoney
LAS NUBES – The dreamy fuzz box punk of Las Nubes can only come from the confidence well of fortresses known as bedrooms. And since it did evolve from a bedroom project for singer/vocalist Ale Campos, this Miami trio infuses psych and pop into an open narrative of nostalgic reminiscence that has captured the ears and hearts of South Florida. – Abel Folgar, PureHoney
LION COUNTRY FERRARI – If Wire had gone to art school in West Palm Beach and taken their punk angst from visual cues like drive-thru zoos and cocaine-fueled Italian sports vehicles they'd be named Lion Country Ferrari. Recalling synth-punk pioneers The Screamers and Florida's Futurisk, they bring an earnest exuberance to Tascam 4-track recording. – Abel Folgar, PureHoney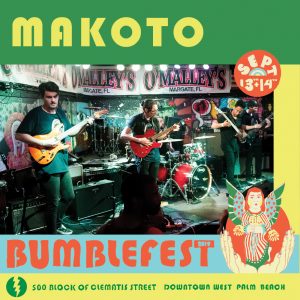 MAKOTO – Mathematical and proggy, Makoto explores itself within the context of the studio, distilling an essence that has been culled from different eras of jazz, 1970's rock, grandiose arena gestures and a Rush-like devotion to their instruments. Jammy and eclectic, their sonic experience promises weight but once unleashed, it soars with feathery grace. – Abel Folgar, PureHoney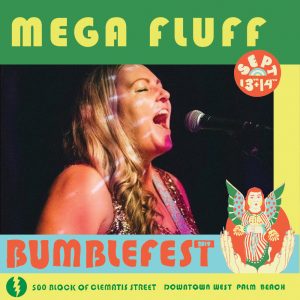 MEGA FLUFF – Harmonies, hand claps and jangly guitars; sort of like if the Breeders went lo-fi indie pop and refused to pick a genre. That's a Breeders based bouillabaisse of essential goods! But, you know, it's Mega Fluff; all the good stuff none of the filler.– Tim Moffat, PureHoney
NE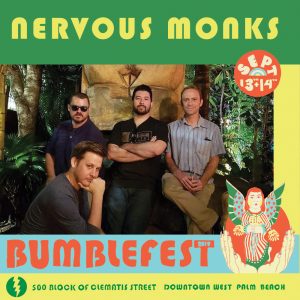 RVOUS MONKS – So you like earnest indie rock, but REM has been broken up for years and jangle pop just aint the same since college rock became mainstream crap. What's a fella to do? Settle down and get comfy, were going to drop the needle on the newest Nervous Monks record, it's going to be alright. – Tim Moffat, PureHoney
O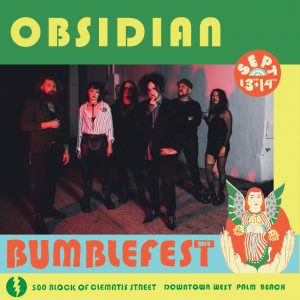 BSIDIAN – The moody goth rock sound of the late '70s and early '80s lives on in this Fort Lauderdale band named after dark volcanic glass. The group's gritty guitars and moaning vocals would make Robert Smith and Ian Curtis beam with gloomy pride. – Olivia Feldman, PureHoney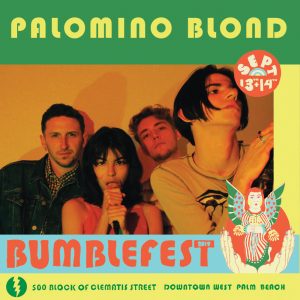 PALOMINO BLOND – The farther out one goes from the epicenter of any major Metropolis, the more often one will find the locals have taken the concepts of the city and turned them into something new. Palomino Blond is Kendall's idea of what a grunge based Miami rock band with pop sensibilities should sound like; Miami might want to take notice. – Tim Moffat, PureHoney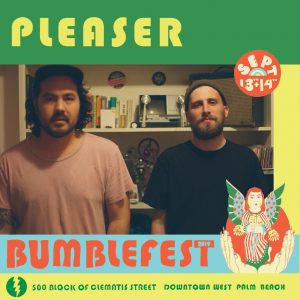 PLEASER – Where Pleaser lands, a party is never far behind! The band's Lo-Fi airy grunge sound is complemented almost too perfectly by their puckish, whimsical charm. They are the aural manifestation of your worldly troubles blissfully melting into the ether. – Freddie Zandt, PureHoney
SO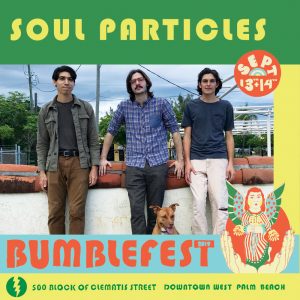 UL PARTICLES –Soul Particles shuffle a deck of genres but land squarely in the earnest, lo-fi, indie-fook category. There are shades of alt country and more than a smattering of Wilco mixed in with the batter to make a delightful cake of experimental pop. – Tim Moffat, PureHoney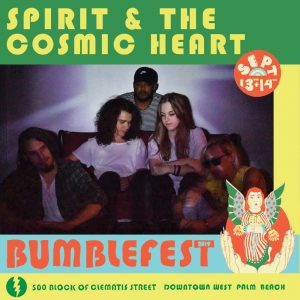 SPIRIT & THE COSMIC HEART – Borne out of the necessity to fill the artistic dearth of their central Florida town, Spirit and the Cosmic Heart is a sextet of friends and family that radiates towards the cosmos a blanket of alt-pop-driven shoe-gaze. Their music is the type you can close your eyes for as you allow your body to become still and completely at ease. – Abel Folgar, PureHoney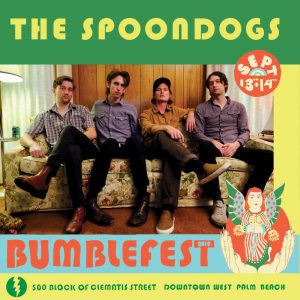 THE SPOONDOGS – From the sweaty garages of Orlando, the Spoon Dogs are reverb-accelerated, wild '60s teen punk in the acid sense. These jangled guitars explode from exhaust-filled rooms as vocals echo from tunnels of barbiturate abuse with percussive elements salvaged from the junkyard. It holds together and recalls brutal region rockers like the Zakary Thaks and the Prime Movers. – Abel Folgar, PureHoney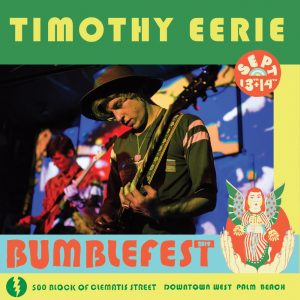 TIMOTHY EERIE – One-part Donovan, a dash of pre-glam T-Rex and double the dosage of psychedelic shoe-gaze and you have Timothy Eerie; If psilocybin made a sound, it would probably be this. From the depths of Orlando, it's no surprise that copious ego deaths and deep grooves would emanate from the city that was made by a mouse.– Tim Moffat, PureHoney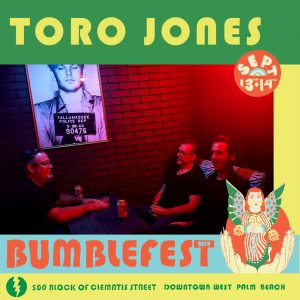 TORO JONES – Grab your katanas, kids! Toro Jones' heart-pounding blend of cinematic surf-rock and rockabilly, spaghetti-western twang will have you bracing yourself for the Crazy 88 to vault over the bar in a rage of coolly spastic bloodlust at any given moment. – Freddie Zandt, PureHoney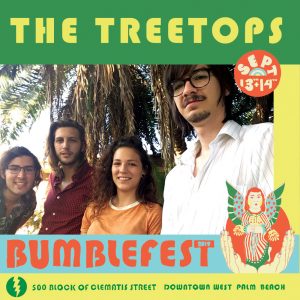 THE TREETOPS – An attempt to stand stationary to the psychedelic 60's blues-pop musings of The Treetops would be blatantly in vain. They've done the commendable service of bringing the mesmerizing groove of decades past into the 21st Century, where we so desperately need it most. – Freddie Zandt, PureHoney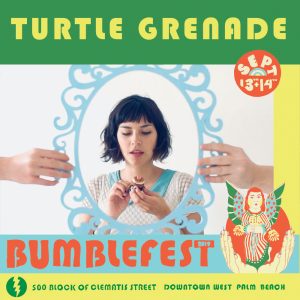 TURTLE GRENADE – The alter-ego of Miami-an Denise Gorrio, Turtle Grenade pours her DIY rock heart out about her insecurities and crazy quirks on her guitar in a way that young people can easily relate. In her high-pitched, nervous voice, you can hear your high school self echoing her embarrassments and immediately empathize. – Olivia Feldman, PureHoney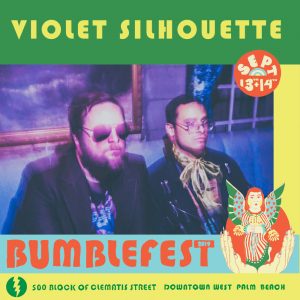 VIOLET SILHOUETTE – Dance your way through time and space with an all out, in-your-face, dominating live performance by your soon-to-be favorite disastrous duo! Violet Femmes are saturated in synth and doused in a heavy dose of reverb, categorizing the band in a league all their own. – Freddie Zandt, PureHoney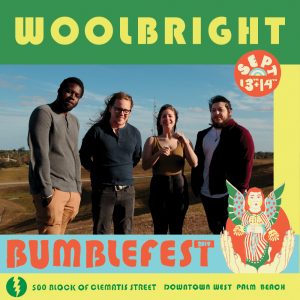 WOOLBRIGHT – Woolbright shines a fluorescent light on your own repressed, awkward, and somehow painfully beautiful coming of age story. They find allure in the darkness of reality and communicate it through gut-wrenching, melodic tunes. – Freddie Zandt, PureHoney